Santa Fe is a unique city featuring many structures made of earth-and-straw adobe bricks, but that's not all you'll find in this New Mexico hot spot that inspired one of Dionne Warwick's most famous songs.

Santa Fe has a rich history dating back to 1610 and is known as "The City Different" because the heavily Spanish and Indigenous influences make it a location like no other. If you play your cards right, you just might be able to find the Santa Fe real estate of your dreams amid some of the most exciting and innovative architecture in the country.
Scottish Rite Masonic Center
Built by the Freemasons in 1912, this gorgeous pink structure—similar in design to the famed Alhambra in Spain—features stained-glass windows and a red tile roof to complement the stucco outside. It was listed on the National Register of Historic Places in 1987.

The landmark, which includes a 300-seat theater, was on the market in 2013 for $6.9 million, but the Freemasons took the historic structure off the market and began marketing it as a venue a year later.

It has appeared in shows such as Longmire and Waco and the Tina Fey movie Whiskey Tango Foxtrot. The Grand Ballroom is available to rent for $2,300 a day for weddings and other special events.
Santa Fe Opera Building
As much as the Scottish Rite Masonic Center is steeped in history, the award-winning
Santa Fe Opera Building
is a modern masterpiece, even as it integrates classic construction materials into the design. The open-air theater has received numerous awards for its state-of-the-art construction. It features a sloped roof that joins the mezzanine and stage, reflecting what architects call "the shape of the sound" in an acoustically distinct and nearly perfect design.
Other features include views of the Sangre de Cristo and Jemez Mountains and high-definition, color LCD touchscreens for each theatergoer, offering English and Spanish translations.
The Oldest House Museum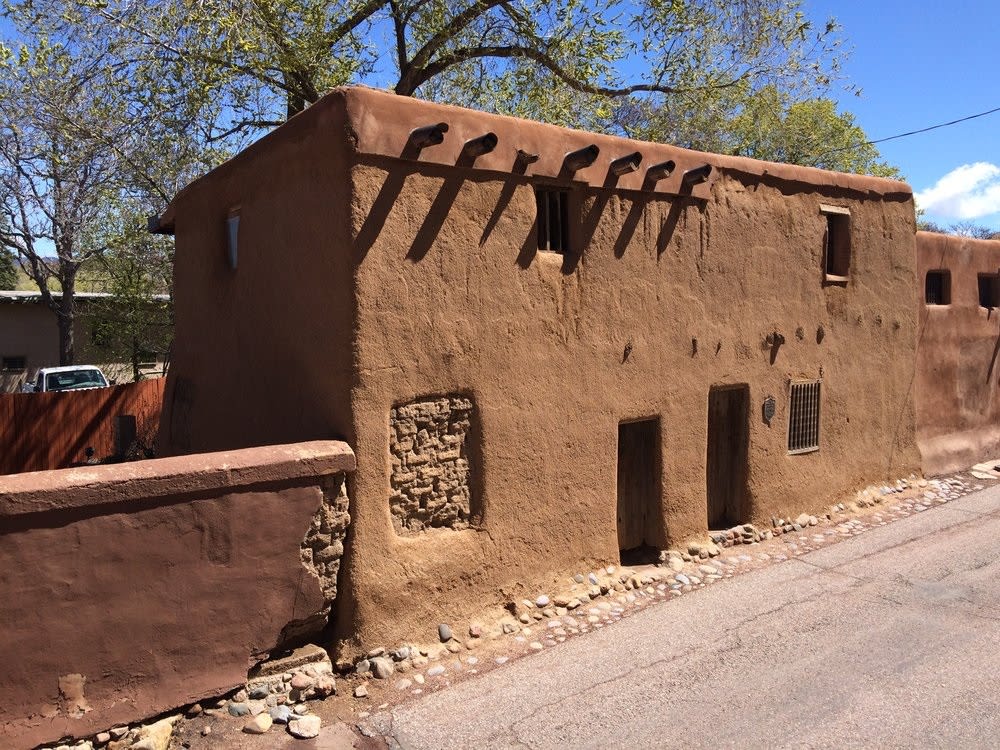 This
1646 structure
, believed to be the oldest home in the oldest capital city in the U.S., is a classic adobe structure. It includes a house attached to the original structure in the 1800s that now serves as a gift shop. Jewelry, unique pottery, flutes, textiles, baskets, and more are part of this fascinating historical stop. It's across the street from Santa Fe's oldest church, the San Miguel Chapel, at 215 E. De Vargas St.
The Lotto Chapel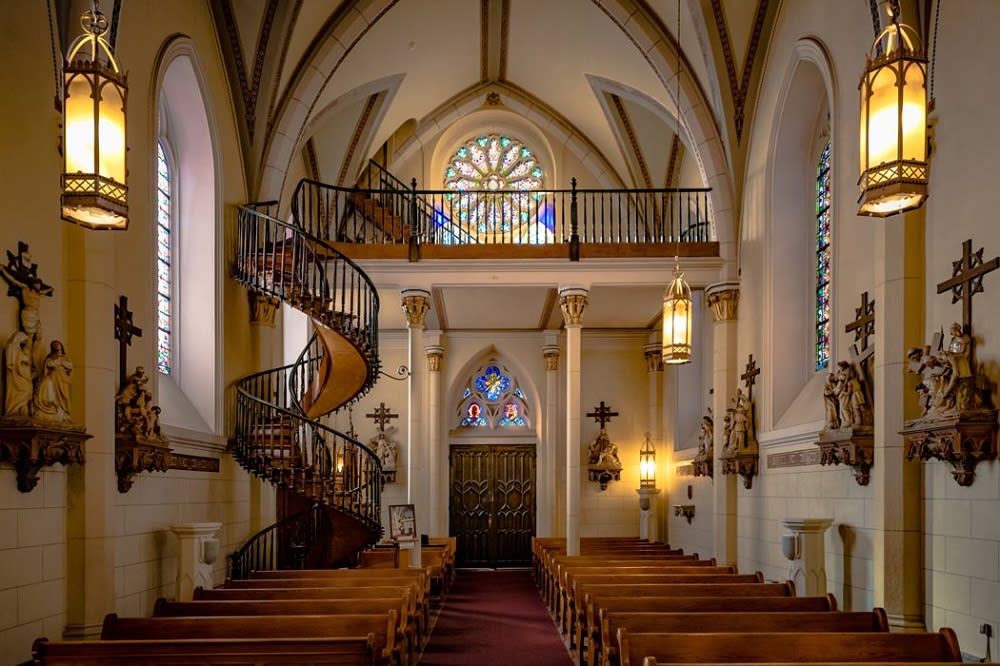 After the Lotto Chapel was constructed, architects realized there was no room for a staircase, and the nuns would be unable to access the choir balcony to sing. There's a story behind it cradled in mystique, but the Lotto Chapel has a lovely spiral staircase that makes the loft accessible, and it is available for tours for a modest fee.
Georgia O'Keeffe Museum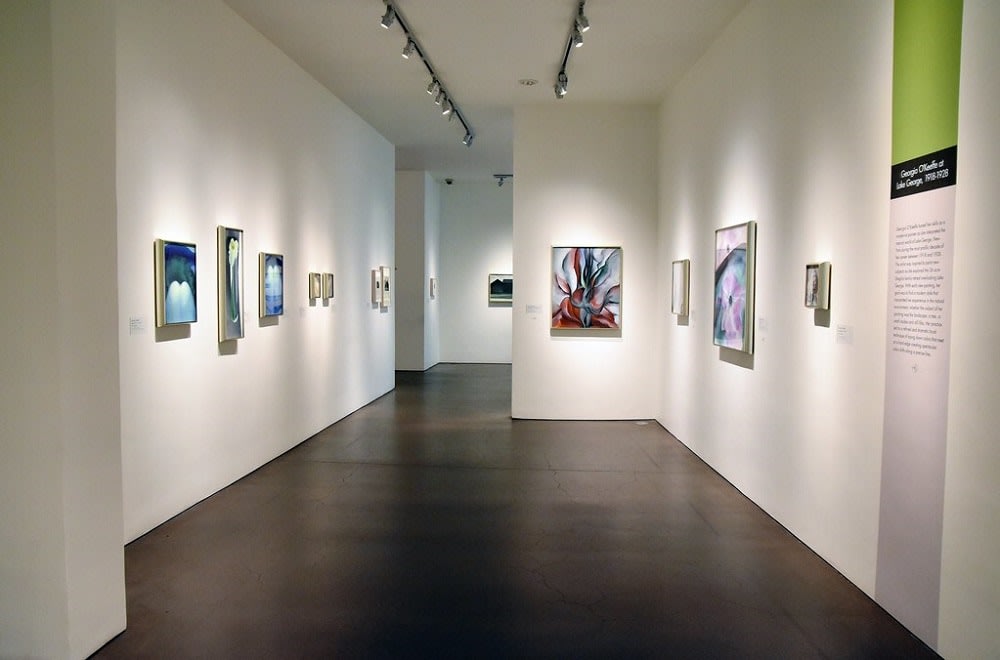 Santa Fe is an artists' mecca, perhaps because Georgia O'Keeffe, a Wisconsin-born artist who made her way to myriad places that inspired her art, died in Santa Fe at the age of 98, where a museum honors her artistic legacy. One of the most prolific, well-known artists of her time, much of O'Keeffe's stunning works were painted in New Mexico and range from desert images to the sensuality of flowers and tree branches caressed by leaves.
"My painting is what I have to give back to the world for what the world gives to me," said O'Keeffe in 1940.
There is a new museum in the works, but the current facility is a one-story, handicapped-accessible facility with craggy cliffs in the background to set the mood. It features classes, displays of her paintings and sculptures, and so much more.
Step back in the past along Cerrillos Road
Until 1937, the iconic Route 66 went through Santa Fe, and its main road, Cerrillos Road, is peppered with road signs that take a step into our nostalgic past. Drive by the Western Scene Motel, which advertised color cable TV, the Stage Coach Inn, which is in good condition considering it's nearly a century old, and many other time capsules harkening to when traveling across the United States on a road trip via Route 66 was a goal held by many adventurers.

Finding Santa Fe real estate in this eclectic neighborhood will allow you to step back into the past whenever the mood strikes.
The Inn & Spa at Loretto
This luxury resort features
levels of construction that give it an old-world feel, but inside, it's all luxury! Enjoy the iconic atmosphere of the adobe architecture and book a room for a unique, Southwestern experience.
Offering private balconies, a pool to beat the heat, a sumptuous spa, a fitness center, and surrounding architecture that completes the look, The Inn & Spa at Loretto is a one-of-a-kind facility that perfectly merges the architecture and landscape of Santa Fe.
Are you looking to make a move?
If you're looking to live surrounded by history and architectural gems, check out some of the Santa Fe luxury homes on the market through Sotheby's International Realty's
David Córdova Group
. David is ready to find your next dream property in Santa Fe!