Santa Fe is known to have some of the best meals and the finest restaurants. The city offers a variety of establishments that serve some of the most flavorful and robust meals of New American and Tex-Mex cuisine. Here is a guide to some of the best restaurants to try in Santa Fe.
Blue Heron Restaurant at Ojo Santa Fe Resort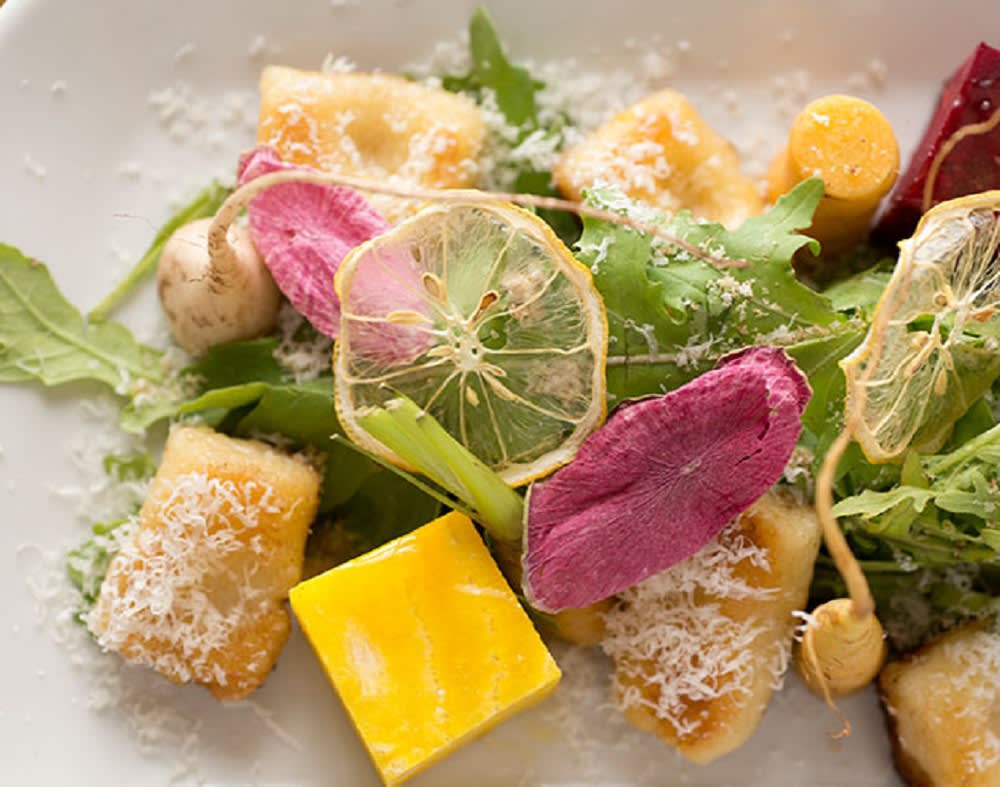 Photo Source: Blue Heron Restaurant
Burrowed inside the
Ojo Santa Fe Resort
, the
Blue Heron Restaurant
sets the scene of farm-to-table organic dining. The restaurant invites its guests to enjoy the peaceful ambiance of its surroundings by featuring reclaimed wood floors and ceilings as well as floor-to-ceiling windows that overlook the spring-fed pond. Blue Heron is the perfect setting for a Sunday brunch or a romantic dinner, offering seating and dining both indoors and outdoors. Depending on where you are seated, you may have a stunning view of the water, and the Blue Heron is the only restaurant in Santa Fe that has this type of view.
Chefs at Blue Heron take pride in using fresh local ingredients and traditional flavors of the Southwest to cook their most popular meals. When you dine at Blue Heron, be sure to try their signature dishes, such as the goat Brie en Croute and the duck salad "Lyonnaise '' served with confit duck leg, curly endive, warm mustard dressing, and a poached egg. You might also enjoy their award-winning green chile cheeseburger served with white cheddar cheese, green chili, lettuce, tomato, onions, and pickles with regular fries or sweet potato fries on the side. This restaurant is also an ideal selection for vegetarians, as the delicious quinoa cakes are highly recommended.


Breakfast at the Blue Heron is open from 8 AM to 11 AM with lunch starting at noon and running to 3 PM. Dinner hours are from 5 PM to 9 PM and Sunday brunch is 11 AM to 2:30 PM.

242 Los Pinos Road | Santa Fe, NM 87507
El Farol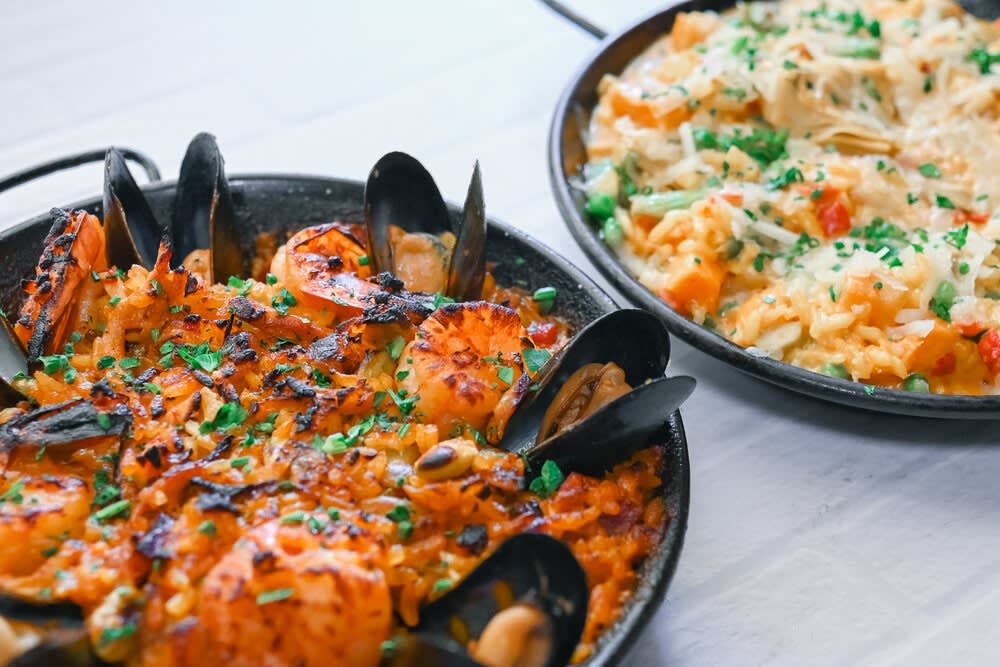 Photo Source: El Farol
Praised as Santa Fe's "most historic and iconic bar and restaurant,"
El Farol
serves guests with an authentic style of fine dining. The restaurant has provided locals and tourists with memorable experiences for over 180 years. El Farol specializes in old-fashioned Spanish tapas and small plates that come with a strong flavor, as well as paella, steaks, and daily specials. Guests boast about their dinner shows that feature musicians and dancers from the well-known National Institute of Flamenco. The New York Times once referred to El Farol as one of the "best bars on earth," as they are known for their classic margaritas, sangrias, signature cocktails, and live entertainment.
The restaurant creates an old rustic adobe setting. Their walls are covered with murals painted by famous artists such as Alfred Morang. To add to their opulent setting, their exquisite menu offers savory and robust dishes that you won't be able to resist. From their fine-cooked shishito peppers to their paella churros, El Farol will not disappoint the unique flavors of the Southwestern cooking cultures. If you plan to dine at El Farol, make sure you order their flash-fried avocado with pico de gallo and lime crema. For dinner specifically, try their signature seafood dish, Mejillones, which are mussels that come served in a spicy tomato broth and hazelnut picada.
El Farol
is a local favorite because there is something for everyone. If you are gluten-free, you might enjoy their sensational paella de verduras, which is a local vegetable paella, or consider ordering their pollo con patatas, which is regal chicken breast served with Spanish chorizo, green olives, marble potatoes, piquillo peppers, shallots, garlic, and other herbs.
808 Canyon Rd. | Santa Fe, NM 87501
Farm Fresh Cuisine at Radish and Rye
The dining experience at
Farm Fresh Cuisine Radish and Rye
is one of the freshest you could imagine. When eating here, you can taste the quality organic selections in all their meals. The produce served at Farm Fresh is locally grown and sourced. Their fish is wild-caught and sustainably farm-raised, and their meat and poultry are hormones and antibiotic-free. You get the idea — it's really fresh! Their salads make a great start to their meals. Try the farm greens salad served with fresh vegetables, feta cheese, and red wine vinaigrette. Fresh Farm Cuisine at Radish and Rye offers a seasonally rotating menu that features delicious concoctions such as a beet salad served with charred pecans and feta-chevre dressing.
Farm Fresh also offers delicious beef tartare and seared scallops, which usually come served with an umami-inducing starch such as grilled polenta with shimeji mushrooms covered in white wine caper beurre blanc. However, it's not just the food that keeps locals and visitors returning. The setting and atmosphere at Farm Fresh create a memorable experience. When you dine at Farm Fresh, you will take note of all of its artisan touches — such as how the restaurant places cut-up squares from old menus as doilies for their desserts. The patinated metal sign that sits outside of the restaurant sets the overtone to a similarly storied vibe. The details of this restaurant are all subtle, but they make a relaxing and unique ambiance. Farm Fresh Cuisine at Radish and Rye is open for dinner Wednesday through Saturday.
505 Cerrillos Rd | Santa Fe, NM, 87501
Geronimo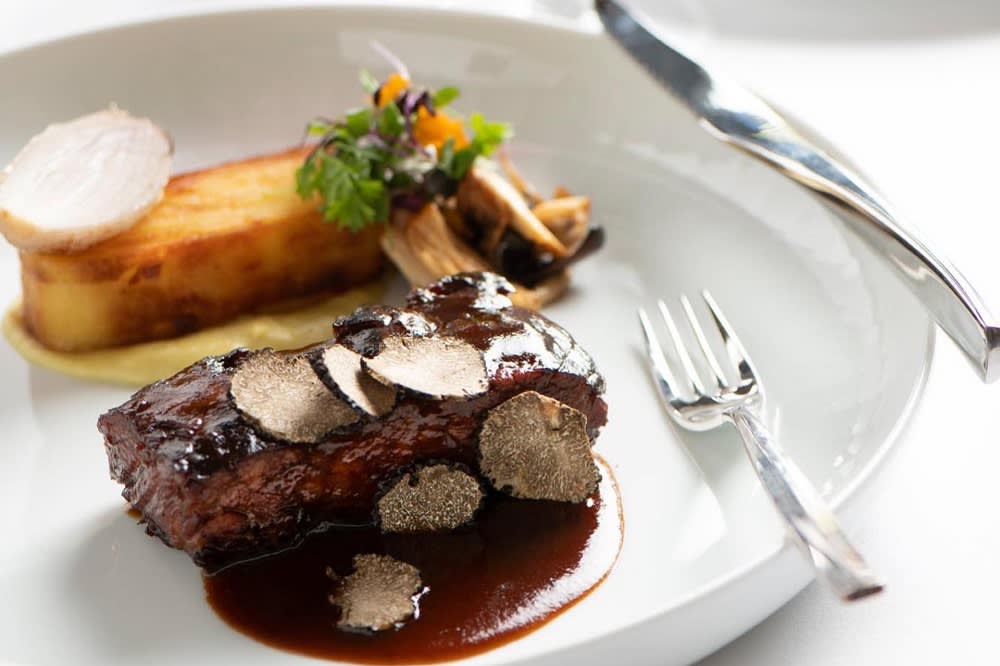 Photo Source: Geronimo
Fine dining meets elegance at
Geronimo's
, a restaurant whose building was created in 1756. The adobe home is nearly 300 years old and was built by Geronimo Lopez. The sophisticated restaurant boasts thick adobe walls and kiva fireplaces, and wood beams surround. Geronimo's is named one of the "best fine dining restaurants in America," by 100 Best Restaurants in America. The historic adobe home serves elegant New American farm-to-table cuisine with a Southwestern-inspired panache. If you're looking to have an up-scale and high-end experience in Santa Fe, this would be the place to go. Some of the restaurant's signature dishes include exotic selections such as tellicherry rubbed elk tenderloin, New Mexico four corners grilled rack of lamb, and Durham Ranch pan-roasted organic chicken, which comes served with housemade spice Italian sausage and morel mushroom sherry au jus.
The rustic and elegant ambiance of the restaurant makes it a favorite, but their menu is unique to all types of foodies. Geronimo's offers a delicious vegetarian menu, which is a rarity in most fine-dining restaurants. Some of their vegetarian tastings include the endive salad, wild mushroom and Sherry bisque, Arborio rice risotto, and the fresh Meyer lemon crepe. Other
Geronmino
menu favorites include the green miso sea bass and mesquite-grilled Main lobster tails. You won't find a better fine dining experience than the one you will receive at Geronimo's.
724 Canyon Road | Santa Fe, NM 87501
San Marcos Cafe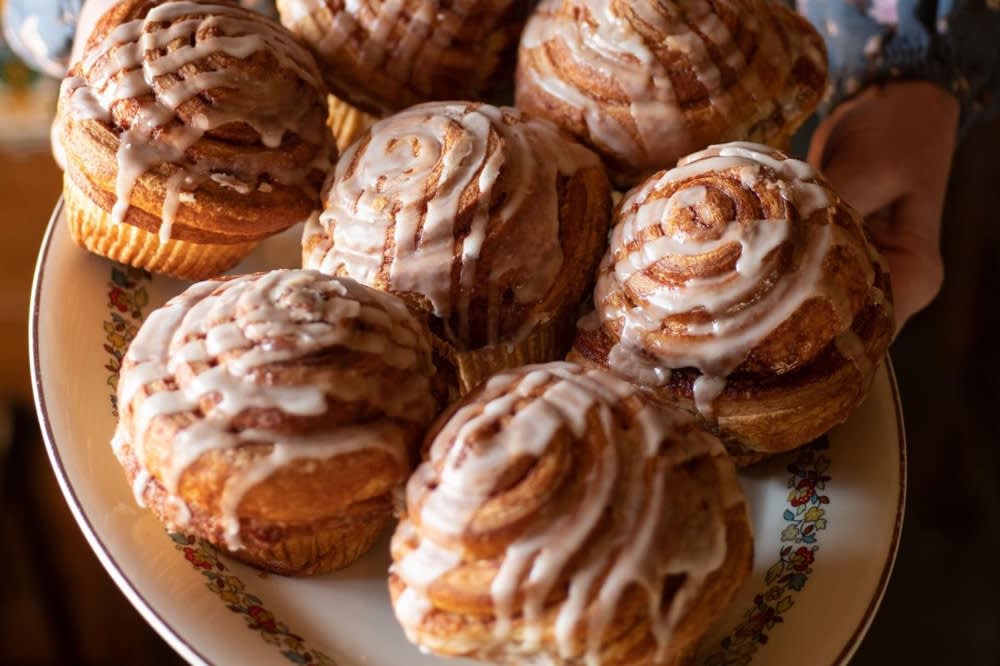 Photo Source: New Mexico Magazine
If you are looking for a dining experience that offers more charm and intimacy, you may enjoy
San Marcos Cafe
located about 25 minutes from downtown. San Marcos Cafe serves your typical Santa Fe-style food that both locals and tourists love. This small, enchanting cafe features home-cooked specialties and favorites of New Mexico. A local favorite of theirs is the green bean chile, which is said to be the best in all of Santa Fe. Other praised menu items include the stuffed acorn squash and huevos rancheros. San Marcos Cafe is also known for its fresh homemade cinnamon rolls.
Fresh food is not the only thing that keeps locals and visitors coming back. The cafe also has a Feed Store attached that allows guests to get a feel of real ranch living. They sell farm-like merchandise such as horse and bird feed, building supplies, farrier supplies, and much more. In addition to the merchandise sold at the feed store, there are also peacocks that you can get up close and personal with! It's not every day you get to have a delicious brunch followed by interacting with one of the world's most beautiful birds.
San Marcos Cafe
is the perfect spot if you are looking for a unique, lively, and quaint setting to enjoy an espresso with fresh pastries. It is known to be the best breakfast spot in all of Santa Fe, and the cafe is open daily from 8 AM to 2 PM.
Want to move to Santa Fe?

*Header photo Source: Farm Fresh Cuisine at Radish and Rye